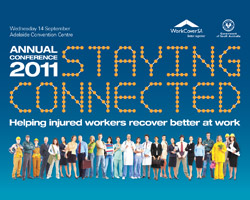 Wednesday 14 September 2011 to Wednesday 14 September 2011
Seminar / Conference
Adelaide Convention Centre
This year's WorkCover SA conference is about 'Staying connected' and focuses on workplace relationships, communication and working together, all key factors in helping injured workers remain at or return to work.
There are many obstacles that workers face when they are injured. Every effort made to combat the physical, psychological and social challenges along the path to recovery will be of benefit to the worker,
the employer and all those involved.
So how can we help overcome these obstacles?
This will be a fantastic forum at which to learn and share ideas to help injured workers recover better at work – and may just inspire your own personal life too!